---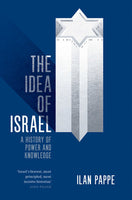 by Ilan Pappe
Verso
1/5/2016, paperback
SKU: 9781784782016
Since its foundation in 1948, Israel has drawn on Zionism, the movement behind its creation, to provide a sense of self and political direction. In this groundbreaking new work, Ilan Pappe looks at the continued role of Zionist ideology. The Idea of Israel considers the way Zionism operates outside of the government and military in areas such as the country's education system, media, and cinema, and the uses that are made of the Holocaust in supporting the state's ideological structure.
In particular, Pappe examines the way successive generations of historians have framed the 1948 conflict as a liberation campaign, creating a foundation myth that went unquestioned in Israeli society until the 1990s. Pappe himself was part of the post-Zionist movement that arose then. He was attacked and received death threats as he exposed the truth about how Palestinians have been treated and the gruesome structure that links the production of knowledge to the exercise of power. The Idea of Israel is a powerful and urgent intervention in the war of ideas concerning the past, and the future, of the Palestinian-Israeli conflict.

Reviews:
"Even those who are familiar are likely to find Pappé's elegantly narrated account useful and stimulating ... An excellent overview of the Israeli field of knowledge production and its relationship to the making of (the idea of) Israel." --Gil Hochberg, Journal of Palestine Studies
"An essential read for anyone trying to understand the politics and history of the Middle East." --Frontline
About the Author:
Ilan Pappe is Professor of History at the University of Exeter. His many books include The Ethnic Cleansing of Palestine and Gaza in Crisis (with Noam Chomsky). He writes for, among others, the Guardian and the London Review of Books.