---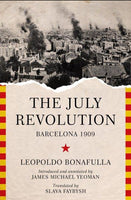 by Leopoldo Bonafulla, Translated by Slava Faybysh
AK Press
7/21/2021, paperback
SKU: 9781849354103
The "Tragic Week in Spain, which took place in July 1909, began as anti-conscription riots, but soon evolved into a widespread uprising attacking the pillars of Spanish society: Church and State. It is known today mostly for its most famous martyr, Francisco Ferrer, the radical educator and founder of the Modern School who was executed by the Spanish army. But Ferrer was only one of hundreds of people who died that week in a brutal crackdown on anarchists and other radicals. Thousands were indicted by military courts, including at least fifty who received life sentences. In The July Revolution, the full story of these events is told for the first time in English, by an astute newspaper editor and eye-witness to the events. In a lively translation by Slava Faybysh and with a detailed historical Introduction by James Michael Yeoman, the notorious week is given its historical due and situated in its proper context of Spain's imperial ambitions and the revolutionary stirrings that were precursors to the Spanish Civil War.
Reviews:
"Known for its burning churches, barricades, and disinterred nuns, the Tragic Week of 1909 remains one of the most dynamic and bizarre revolts of modern Spanish history. This first-hand account penned by the longtime anarchist militant Juan Bautista Esteve (aka Leopoldo Bonafulla) provides the reader with a valuable glimpse into the street-level development of the rebellion as well as the larger context and ramifications of the colonial war in Morocco that sparked it. Finally available in English, The July Revolution transports us back to a fleeting moment when the flame of revolutionary desire burnt brightly for many among the lower classes of Barcelona and beyond." --Mark Bray, co-editor of Anarchist Education and the Modern School: A Francisco Ferrer Reader and author of Antifa: The Anti-Fascist Handbook
About the Contributors:
Leopoldo Bonafulla was the pseudonym of the Catalan anarchist Joan Baptista Esteve. He was part of the militant Avenir Group, which published a newspaper of the same name, and edited the newspaper El Productor and collaborated on El Rebelde and La Revista Blanca. He took part in, and was imprisoned for, the events of the Spain's "Tragic Week" of 1909. Soon after, he participated in the founding congress of the CNT labor union and went on to become a major figure in Spanish anarcho-syndicalism. He died in 1922.
Slava Faybysh is a freelance translator based in Chicago. His translations can be read in Asymptote, Lunch Ticket, Soft Cartel, and Palabras Errantes.