---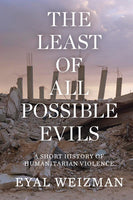 by Eyal Weizman
Verso
10/17/2017, paperback
SKU: 9781786632739
Groundbreaking exploration of the philosophy underpinning Western humanitarian intervention
The notion of a humanitarian "lesser evil" has become instrumental in justifying the West's military adventures. It informs obscene calculations determining how much collateral damage is permissible in conflict. It determines the minimum requirements of survival imposed upon an occupied territory.
As Eyal Weizman shows in this brilliant exploration of forensic architecture, this can be seen in particular in the regime imposed upon Gaza by the state of Israel. Examining the damage following the 2010 bombardment, he pieces together the systematic process of destruction, revealing the political atrocity within the debris. The way he gathers together the evidence forces us to rethink our understanding of justice and human rights in the modern world.
Reviews:
"Eyal Weizman's work has become an indispensable source of both insight and guidance in these difficult times. He understands the evolving dynamics of war and sovereignty better than anyone." --Paul Gilroy, Professor of Social History, London School of Economics
"Originality, ingenuity, and brilliance do not even begin to do justice to this amazing study, this architectural forensics of battle and human rights as pieced together from the study of the ruin and the terrifying logic of 'the lesser evil.' How astonishing to see our new world this new way." --Michael Taussig, Professor of Anthropology, Columbia University
About the Author:
Eyal Weizman is Professor of Spatial and Visual Cultures at Goldsmiths, University of London, where he directs the Centre for Research Architecture and the European Research Council funded project Forensic Architecture. He is also a founder member of the collective Decolonizing Architecture Art Residency (DAAR) in Bethlehem, Palestine. He is the author of Hollow Land, The Least of All Possible Evils, and co-editor of A Civilian Occupation. He lives in London.