---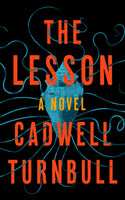 by Cadwell Turnbull
Blackstone Publishing
6/2/2020, paperback
SKU: 9781094081298
An alien ship rests over Water Island. For five years the people of the US Virgin Islands have lived with the Ynaa, a race of superadvanced aliens on a research mission they will not fully disclose. They are benevolent in many ways but meet any act of aggression with disproportional wrath. This has led to a strained relationship between the Ynaa and the local Virgin Islanders and a peace that cannot last.
A year after the death of a young boy at the hands of an Ynaa, three families find themselves at the center of the inevitable conflict, witnesses and victims to events that will touch everyone and teach a terrible lesson.
Reviews:
"Rather than collapse his premise into a straightforward colonial allegory, Turnbull uses the Ynaa occupation to explore what social violence means to the communities that embrace or suffer through it, and whether we as individuals have anything to say about it. Some of the early critical comparisons of The Lesson to Octavia Butler can feel just a little gauche--black authors somehow always seem to be compared only to each other--but Turnbull's fearless commitment to his novel's ambivalence more than earns it." -- "Fiction Unbound"
"Beyond its examination of violence and colonialism...there is also, and I was not expecting that, a look at toxic masculinity, paternalism, and patriarchy. It didn't escape me that there is a beautiful (and harrowing) juxtaposing between language itself and these ideas (when the Ynaa refer to "men" who are they talking about?) that leads to an explosive ending...Its multiple threads fall into place beautifully." -- "The Book Smugglers"
About the Author:
Cadwell Turnbull is the author of the debut novel The Lesson. He is a graduate from the North Carolina State University's Creative Writing MFA in Fiction and English MA in Linguistics. Turnbull is also a graduate of Clarion West 2016. His short fiction has appeared in The Verge, Lightspeed, Nightmare, and Asimov's Science Fiction. His Nightmare story "Loneliness Is in Your Blood" was selected for the Best American Science Fiction and Fantasy 2018. His Lightspeed story "Jump" was selected for The Year's Best Science Fiction and Fantasy 2019 and was featured on LeVar Burton Reads. For his work on The Lesson, Turnbull has been long-listed for the 2020 VCU Cabell's First Novelist Award and nominated for the 2020 AAMBC Sci-fi Fantasy Author of the Year.