---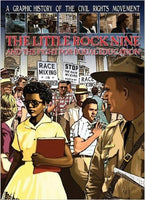 by Gary Jeffrey
Gareth Stevens
2012, paperback
SKU: 9781433974847
The story of a group of African American students known as the Little Rock Nine is a saga of incredible courage and grace. Following the 1954 Supreme Court ruling that struck down school segregation, black leaders turned their attention to the next challenge: getting African American students into white schools. In Little Rock, Arkansas, a small group of African American students were selected to integrate the high school. This taut, thrilling graphic novel plunges readers into the cauldron of hate, bigotry, and fear the students faced. Powerful illustrations grip readers, and accessible text presents the emotionally charged events in readily understandable language.
Target age group is 8 to 10.
Part of our Graphic Histories collection.