---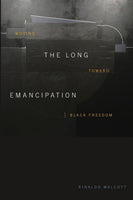 by Rinaldo Walcott
Duke University Press
4/30/2021, paperback
SKU: 9781478014058
In The Long Emancipation Rinaldo Walcott posits that Black people globally live in the time of emancipation and that emancipation is definitely not freedom. Taking examples from across the globe, he argues that wherever Black people have been emancipated from slavery and colonization, a potential freedom has been thwarted. Walcott names this condition the long emancipation--the ongoing interdiction of potential Black freedom and the continuation of the juridical and legislative status of Black nonbeing. Stating that Black people have yet to experience freedom, Walcott shows that being Black in the world is to exist in the time of emancipation in which Black people must constantly fashion alternate conceptions of freedom and reality through expressive culture. Given that Black unfreedom lies at the center of the making of the modern world, the attainment of freedom for Black people, Walcott contends, will transform the human experience worldwide. With The Long Emancipation, Walcott offers a new humanism that begins by acknowledging that present conceptions of what it means to be human do not currently include Black people.

Reviews:
"Essential reading. From its first paragraphs Rinaldo Walcott's The Long Emancipation shifts the axis of thought about Black freedom. The astonishing and devastating idea at the center of this book lays out the condition of Black being in the Americas as existing, still, in a state of juridical unfreedom. Once that idea's recalibrating weight and urgency strike you, you must think again where analysis and theory begin. You must begin again." -- Dionne Brand, poet, novelist, essayist
"In The Long Emancipation Rinaldo Walcott has opened up whole new avenues for thinking about the causes and conditions, the global logics of 'unfreedom' that continue to haunt and imperil Black lives. This rich collection of provocations challenges us to consider the terms and possibilities of living beyond the death zones and extractive economies of capitalism; it invites us to see and feel the audacious eruptions of a blackness exceeding these limits--moving and struggling toward freedom." -- Deborah E. McDowell, University of Virginia
About the Author:
Rinaldo Walcott is a Professor in the Women and Gender Studies Institute, University of Toronto, author of Queer Returns: Essays on Multiculturalism, Diaspora, and Black Studies, and coauthor of BlackLife: Post-BLM and the Struggle for Freedom.