---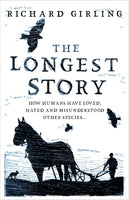 by Richard Girling
ONEworld Publications
10/12/2021, hardcover
SKU: 9780861540563
The history of humanity's relationship with other species is baffling.
Without animals there would be no us. We are all fellow travelers on the same evolutionary journey. By charting the love-hate story of people and animals, from their first acquaintance in deep prehistory to the present and beyond, Richard Girling reveals how and where our attitudes towards animals began - and how they have persisted, been warped and become magnified ever since.
In dazzling prose, The Longest Story tells of the cumulative influence of theologians, writers, artists, warriors, philosophers, farmers, activists and scientists across the centuries, now locking us into debates on farming, extinction, animal rights, pets, experiments and religion.
Reviews:
"The Longest Story is a compelling and thought-inspiring search inside our moral selves. Through masterful introspection, Girling delves into our relationships, fascinations and follies with animals. He tracks the origins of attitudes, unpacks contradictions and asks whether our interactions with other species holds the key to our own survival. In an age of extinction, this is essential reading." -- Philip Lymbery, CEO of Compassion in World Farming and author of Farmageddon: The True Cost of Cheap Meat
"Richard Girling's The Longest Story is a social science examination of the relationships between humans and animals -- a topic that's seldom considered, but is close at hand and environmentally relevant... mythic in scope and style... it works toward a stunning conclusion about where humans should look for wisdom." -- Foreword Reviews
About the Author:
Richard Girling is an award-winning writer and the author of eight critically acclaimed books, including The Man Who Ate the Zoo. He has been centrally involved in environmental journalism since the mid 1970s, pioneering writing about climate change and species loss in national newspapers. He lives in North Norfolk.