---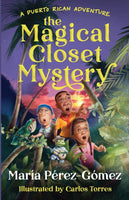 by María Pérez-Gómez, illustrated by Carlos Torres
Berry Powell Press
11/1/2022, paperback
SKU: 9781957321080
After losing their father to a firefighting accident, siblings Luca, Magia, and Mateo move with their Mami from their beloved Puerto Rico to Buffalo, NY. They miss both their Papi and their homeland. When their Mami has to go on a trip, their struggle is exacerbated even further-especially for Luca.
However, as Magia and Mateo try to cheer him up, the siblings hear a mysterious song coming from their bedroom closet. Following the song, the siblings find themselves pulled into the closet and transported within moments to Puerto Rico's mystical El Yunque rainforest. They also find they've been turned into animals-a rooster, frog, and pig.
Soon after they arrive, they discover the entire island devastated by two recent back-to-back hurricanes. And as they meet the other rainforest creatures, it becomes clear that they were not transported by accident-they were brought here to help. And in order to do so, they need to get the help of The Sleeping Giant, a folk legend most don't believe exists.
With new friends, the siblings must uncover their family's secret past, discover the magic hidden inside them, and renew the hope of healing to everyone on the island.
Target age: 10 to 13

Reviews:
"Bravo! A masterfully written story that weaves together the robust culture and history of Puerto Rico while acknowledging the struggle of moving to a new land and finding hope in the midst of grief. María uses tactful and descriptive language to spark imagination and produce powerful emotions while evoking a new appreciation for the food, art, music, and beauty of Puerto Rican culture. This timeless message entwines themes such as courage, empathy, love, suffering, and hope in a single story that will leave children and adults alike with a renewed sense of purpose. The Magical Closet Mystery will surely become a household staple for many, a story that brings new meaning every time it's read." -- Abigail J. Grainge, MS, FNP
"This book is an enchanting and magical story, told through the lens of Puerto Rican culture but readily appreciated by those of any cultural background. Aside from weaving a beautiful tale of family, friendship, and community, The Magical Closet Mystery seeks to help children who may be dealing with trauma find hope and understanding. It points to the importance of expressing feelings and connecting to positive aspects of the character's lives and their personal and cultural histories. Ms. Pérez-Gómez communicates these messages through the story of three young Puerto Rican children, now living in Buffalo, who are mourning the death of their father, the loss of their homeland, and the devastation of the hurricanes that swept through their beloved Puerto Rico. Their lives are changed completely when they discover a portal in their bedroom closet that leads to wild adventure, tender awakening, and individual and communal healing in the lush Puerto Rican rainforest. Ms. Pérez-Gómez's beautifully descriptive writing style transports the reader to the delightful sights, sounds, and fragrant scents of Puerto Rico, but her message of courage, connection, and healing is as universal as the transcendent power of love itself." -- Roberta Farkas-Huezo, MSW, Child Welfare Administrator, Erie County Department of Social Services
About the Author:
María Pérez-Gómez is a proudly Puerto Rican author, vocalist, playwright, and performer. She is the Managing Director for Raíces Theatre Company, the only Latino theatre company in western New York, and she is Assistant Director at Vive, a shelter for asylum seekers. Her greatest goals are to craft stories Latino children can see themselves in and help children of all backgrounds develop resilience. She and her big family live in Buffalo, NY.