---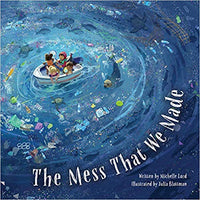 by Michelle Lord, illustrated by Julia Blattman
Flashlight Press
1/1/2020, hardcover
SKU: 9781947277144
The Mess That We Made explores the environmental impact of trash and plastic on the ocean and marine life, and it inspires kids to do their part to combat pollution. Simple, rhythmic wording builds to a crescendo ("This is the mess that we made. These are the fish that swim in the mess that we made.") and the vibrant digital artwork captures the disaster that is the Great Pacific Garbage Patch. Children can imagine themselves as one of the four multi-ethnic occupants of the little boat surrounded by swirling plastic in the middle of the ocean, witnessing the cycle of destruction and the harm it causes to plants, animals, and humans. The first half of the book portrays the growing magnitude of the issue, and the second half rallies children and adults to make the necessary changes to save our oceans. Facts about the Great Pacific Garbage Patch, ocean pollution, and how kids can help are included in the back matter.
Reviews:
"Our lives depend on the ocean. Fish consume our waste and then end up on our dinner plates. I hope that this beautifully illustrated book will serve as a tool to pass on the importance of the ocean to future generations and beyond." --Yohei Sasakawa, Chairman of The Nippon Foundation and founder of Change for the Blue

"This outstanding story superbly visualizes pollution problems with art that hits the spot....It is sure to inspire our young conservationists-in the-making to work toward a sustainable ocean environment." --Briggette Dusart, Cleaner Ocean Foundation
"Great book! Inspires a love for stewardship of the ocean in today's youth so that the next generation will not repeat The Mess That We Made. There is always hope in the next generation, a hope that they will create a healthier, more sustainable ocean." --Anthony Saner, Director of ReefCI (Reef Conservation International)

"With one turn of the page, [the] heavy feeling of deep-sea despair quickly becomes a promise for a healthier, happier tomorrow... Use this ocean gem to springboard not only a discussion but also to ignite goals for actionable ways to reduce our landfills and conserve our resources." --Barbara Gruener, Corner on Character
About the Authors:
Michelle Lord has written several books for children, including A Song For Cambodia, Nature Recycles, and Animal School: What Class Are You?, which received a starred review from Kirkus.
Julia Blattman has worked as a visual development artist for animated feature films and Disney mobile games. This is her first picture book.