---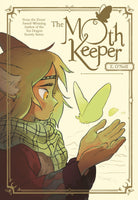 by K. O'Neill
Random House Publishing
3/7/2023, paperback
SKU: 9780593182260
Being a Moth Keeper is a huge responsibility and a great honor, but what happens when the new Moth Keeper decides to take a break from the moon and see the sun for the first time? From the author of the beloved Tea Dragon Society comes a must-read for fans of the rich fantasies of Hayao Miyazaki and the magical adventures of Witch Hat Atelier.
Anya is finally a Moth Keeper, the protector of the lunar moths that allow the Night-Lily flower to bloom once a year. Her village needs the flower to continue thriving and Anya is excited to prove her worth and show her thanks to her friends with her actions, but what happens when being a Moth Keeper isn't exactly what Anya thought it would be?
Night after night, it is lonely in the desert, with only one lantern for light. Still, Anya is eager to prove her worth, to show her thanks to her friends and her village. But is it worth the cost? And yet something isn't right. When Anya glimpses the one thing that could destroy what she's meant to protect, her village and the lunar moths are left to deal with the consequences.
K. O'Neill brings to life a beautifully illustrated fantasy with lush, gorgeous art and intricate world-building. A story about coming of age and community, The Moth Keeper is filled with magic, hope, and friendship.
Target age: 8 to 12
Reviews:
"Containing a deeply contemplative aura, this worthy volume explores themes of connection, mythology, personal growth, and tradition." -- Publishers Weekly, starred review
"Hand this quiet, beautifully drawn book to readers of gentle, uplifting, character-driven comics." -- Booklist, starred review
"A nature-based coming-of-age story aglow with the light of loving bonds and communal living." -- Kirkus Reviews, starred review
About the Author: 
K. O'Neill is an author and illustrator based in Aotearoa New Zealand, and a lover of nature, tea, and growing things. They strive to make books with themes of kindness, inclusiveness, and well-being, with worlds that children can play in and characters they can explore these ideas alongside. Past acknowledgments of their work include: 2019 Eisner nominee for Best Children's Comic (Aquicorn Cove), 2018 Eisner winner for Best Children's Comic, 2018 Eisner winner for Best Webcomic, 2018 Harvey co-winner for Best Children's Comic, 2018 Dwayne McDuffie Award winner for Kids' Comics (The Tea Dragon Society), 2017 ALA Amelia Bloomer List, 2017 Dwayne McDuffie Kids' Comics Award nominee (Princess Princess Ever After).