---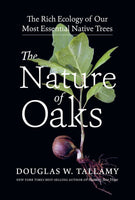 by Douglas W. Tallamy
Timber Press
3/30/2021, hardcover
SKU: 9781643260440
With Bringing Nature Home, Doug Tallamy changed the conversation about gardening in America. His second book, the New York Times bestseller Nature's Best Hope, urged homeowners to take conservation into their own hands. Now, he is turning his advocacy to one of the most important species of the plant kingdom--the mighty oak tree.
Oaks sustain a complex and fascinating web of wildlife. The Nature of Oaks reveals what is going on in oak trees month by month, highlighting the seasonal cycles of life, death, and renewal. From woodpeckers who collect and store hundreds of acorns for sustenance to the beauty of jewel caterpillars, Tallamy illuminates and celebrates the wonders that occur right in our own backyards. He also shares practical advice about how to plant and care for an oak, along with information about the best oak species for your area. The Nature of Oaks will inspire you to treasure these trees and to act to nurture and protect them.
Reviews:
"Packed with fascinating stories of ecological connections and wonders, this beautiful book is a hymn to the keystones of the forest, the oaks. A timely and much needed call to plant, protect, and delight in these diverse, life-giving giants." -- David George Haskell, author of Pulitzer finalist, The Forest Unseen, and Burroughs Medalist, The Songs of Trees; Professor, University of the South
"There's a payoff for the environment, yes, but also for each of us, in the bonds of personal connection. Tallamy feels it, down to the last acorn." --The New York Times

About the Author:
Doug Tallamy is a professor in the Department of Entomology and Wildlife Ecology at the University of Delaware, where he has taught insect-related courses for 40 years. His most recent book with Timber Press, Nature's Best Hope, is a New York Times Best Seller.