---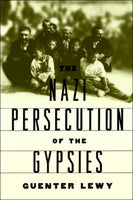 Sale
by Guenter Lewy
Oxford University Press, USA
5/24/2001, paperback
SKU: 9780195142402
Roaming the countryside in caravans, earning their living as musicians, peddlers, and fortune-tellers, the Gypsies and their elusive way of life represented an affront to Nazi ideas of social order, hard work, and racial purity. They were branded as "asocials," harassed, and eventually herded into concentration camps where many thousands were killed. But until now the story of their persecution has either been overlooked or distorted.
In The Nazi Persecution of the Gypsies, Guenter Lewy draws upon thousands of documents--many never before used--from German and Austrian archives to provide the most comprehensive and accurate study available of the fate of the Gypsies under the Nazi regime. Lewy traces the escalating vilification of the Gypsies as the Nazis instigated a widespread crackdown on the "work-shy" and "itinerants." But he shows that Nazi policy towards Gypsies was confused and changeable. At first, local officials persecuted gypsies, and those who behaved in gypsy-like fashion, for allegedly anti-social tendencies. Later, with the rise of race obsession, Gypsies were seen as a threat to German racial purity, though Himmler himself wavered, trying to save those he considered "pure Gypsies" descended from Aryan roots in India. Indeed, Lewy contradicts much existing scholarship in showing that, however much the Gypsies were persecuted, there was no general program of extermination analogous to the "final solution" for the Jews.
Exploring in heart-rending detail the fates of individual Gypsies and their families, The Nazi Persecution of the Gypsies makes an important addition to our understanding both of the history of this mysterious people and of all facets of the Nazi terror.
Reviews:
"Lewy has written a major work on the Nazi persecution of the Gypsies which is accessible to the general reader as well as to scholars."-- The Philadelphia Inquirer
"In his level-headed way Guenter Lewy challenges many stereotypes about the Gypsies, exploring their culture including their 'ritual purity'. He also argues that despite all Nazi crimes against them the Third Reich's policy towards them lacked the single-mindedness of its murderous assault on the Jews. Meticulously researched, this book is innovative and courageous in its conclusions."--Klemens von Klemperer, Department of History, Smith College
About the Author:
Guenter Lewy is Professor Emeritus of Political Science at the University of Massachusetts, Amherst. He is the author of many books, including The Catholic Church and Nazi Germany and Religion and Revolution (OUP). He lives in Washington, D.C.