---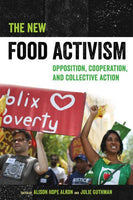 Edited by Alison Hope Alkon and Julie Guthman
University of California Press
6/27/2017, paperback
SKU:  9780520292147
The New Food Activism explores how food activism can be pushed toward deeper and more complex engagement with social, racial, and economic justice and toward advocating for broader and more transformational shifts in the food system. Topics examined include struggles against pesticides and GMOs, efforts to improve workers' pay and conditions throughout the food system, and ways to push food activism beyond its typical reliance on individualism, consumerism, and private property. The authors challenge and advance existing discourse on consumer trends, food movements, and the intersection of food with racial and economic inequalities.
Reviews:
" The New Food Activism is a valuable contribution to critical food studies that raises important questions about what kind of food system we, as scholars, organizers, eaters and workers want to see and how we are going to get there."-- "Antipode"
"A shrewdly curated call to action... By depicting the diversity of opposition to conventional food systems and with keen depth of discussion, Alkon and Guthman stoke the embers of the change that has been smoldering for decades within the food system, demonstrating means of resistance that all new activists should emulate."-- "Graduate Journal of Food Studies"
About the Contributors:
Alison Hope Alkon is Associate Professor of Sociology and cofounder of the master's degree program in food studies at the University of the Pacific. She is the author of Black, White, and Green: Farmers Markets, Race, and the Green Economy and coeditor of Cultivating Food Justice: Race, Class, and Sustainability.
Julie Guthman is Professor of Social Sciences at the University of California, Santa Cruz. She is the author of Agrarian Dreams: The Paradox of Organic Farming in California and Weighing In: Obesity, Food Justice, and the Limits of Capitalism.