---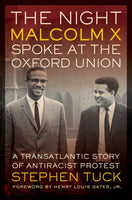 by Steven Tuck
University of California Press
2014, hardcover
SKU: 9780520279339
Less than three months before he was assassinated, Malcolm X spoke at the Oxford Union--the most prestigious student debating organization in the United Kingdom. The Oxford Union regularly welcomed heads of state and stars of screen and served as the training ground for the politically ambitious offspring of Britain's "better classes." Malcolm X, by contrast, was the global icon of race militancy. For many, he personified revolution and danger. Marking the fiftieth anniversary of the debate, this book brings to life the dramatic events surrounding the visit, showing why Oxford invited Malcolm X, why he accepted, and the effect of the visit on Malcolm X and British students.
About the Author:
Stephen Tuck tells the human story behind the debate and also uses it as a starting point to discuss larger issues of Black Power, the end of empire, British race relations, immigration, and student rights. Coinciding with a student-led campaign against segregated housing, the visit enabled Malcolm X to make connections with radical students from the Caribbean, Africa, and South Asia, giving him a new perspective on the global struggle for racial equality, and in turn, radicalizing a new generation of British activists. Masterfully tracing the reverberations on both sides of the Atlantic, Tuck chronicles how the personal transformation of the dynamic American leader played out on the international stage.
Reviews:
"If there is a legacy to be carried from this book, for me it is in the salient need to internationalise our struggles and our histories. Often dominated by American discourses and figures of anti-racist protest, many of the transatlantic connections evident in resistance movements noted in this book have been obfuscated in service of more sanitised historical narratives. . . . The 50th anniversary can be an opportunity to sit back and admire the oratory of Malcolm X, or it can be an opportunity to remind ourselves and re-enforce a cross-border, transnational, transhistorical struggle -- just as the Oxford students in the 1960s did." -- Mahmoud Ally, "Oxford Today"
"Tuck has resurrected the story of the British civil rights struggle, as resolute and stirring as the struggle in the US. Read it, be moved and enraged, and ask why antiracism gave up and went to bed." -- Yasmin Alibhai-Brown, "The Independent"