---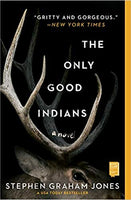 by Stephen Graham Jones
Gallery / Saga Press
1/26/2021, paperback
SKU: 9781982136468
From New York Times bestselling author Stephen Graham Jones comes a novel that is equal parts psychological horror and cutting social commentary on identity politics and the American Indian experience. Fans of Jordan Peele and Tommy Orange will love this story as it follows the lives of four American Indian men and their families, all haunted by a disturbing, deadly event that took place in their youth. Years later, they find themselves tracked by an entity bent on revenge, totally helpless as the culture and traditions they left behind catch up to them in a violent, vengeful way.
Reviews:
"Subtly funny and wry at turns, this novel will give you nightmares. The good kind, of course." --Buzzfeed
" The Only Good Indians is scary good. Stephen Graham Jones is one of our most talented and prolific living writers. The book is full of humor and bone chilling images. It's got love and revenge, blood and basketball. More than I could have asked for in a novel. It also both reveals and subverts ideas about contemporary Native life and identity. Novels can do some much to render actual and possible lives lived. Stephen Graham Jones truly knows how to do this, and how to move us through a story at breakneck (literally) speed. I'll never see an elk or hunting, or what a horror novel can do the same way again."--Tommy Orange, Pulitzer Prize finalist of There There
About the Author:
Stephen Graham Jones is the New York Times bestselling author of The Only Good Indians. He has been an NEA fellowship recipient, has won the Jesse Jones Award for Best Work of Fiction from the Texas Institute of Letters, the Independent Publishers Award for Multicultural Fiction, a Bram Stoker Award, four This is Horror Awards; and has been a finalist for the Shirley Jackson Award and the World Fantasy Award. He is the Ivena Baldwin Professor of English at the University of Colorado Boulder.