---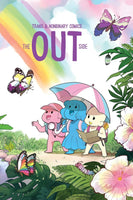 Compiled by The Kao, Min Christiensen, and David Daneman
Andrews McMeel Publishing
9/26/2023, paperback
SKU: 9781524880125
In this vibrant and affirming comics anthology, 29 trans & nonbinary comic artists share their personal journeys of self-discovery and acceptance.
Featuring the work of Sage Coffey, Kyla Aiko, and Coco Ouwerkerk, The Out Side: Trans & Nonbinary Comics includes 29 creators' tales of self-love and affirmation and detailing their experiences with gender and identity. Originally published as a successful Kickstarter campaign, this expanded edition includes comics by Dana Simpson (bestselling author of Phoebe and Her Unicorn), Aidyn Huynh (Snailords), Wren Chavers, and more.
Equal parts encouraging, comforting, and life-affirming, The Out Side is a love letter to the trans and nonbinary community, designed to inspire anyone who may be struggling with their own identity and to help educate those who seek greater understanding. As artist Julia Kaye writes in the book's introduction: "I'm so glad this book exists. It's a loud proclamation of our existence in the face of a culture that has for too long ignored our experiences."
Reviews:
"If you need something fun and joyful to look forward to this fall, look no further! This anthology includes work from 29 trans and nonbinary comic artists who share intimate, personal stories about their lives, gender journeys, and identities. It's a beautiful celebration of the messy complexity of trans and nonbinary lives and includes a diverse array of art and comics styles." -- Book Riot
About the Editors:
David Daneman is a cartoonist, podcaster and anthologist. As captain of The Original Content Collective, he's created six humor anthologies, most recently Humania!, a collection of comics about pets and animals. Any day now, he'll get back to making his webcomic series The DaneMen.
Min Christiensen is a Danish comic creator and illustrator. In 2015, they were nominated for a Danish comic award for their strip Fail by Error. They hope to one day make enough money from their art to be able to afford top surgery and a new tablet.