---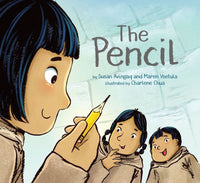 by Susan Avingaq and Maren Vsetula, illustrated by Charlene Chua
Inhabit Media
9/03/2019, hardcover
SKU: 9781772272161
Susan and her sister, Rebecca, love watching their mother write letters to people in other camps. Their mother has one precious pencil, and she keeps it safe in her box for special things. One afternoon, Anaana leaves the iglu to help a neighbour, and Susan, Rebecca, and their brother Peter are left with their father. They play all their regular games but are soon out of things to do-until Ataata brings out the pencil! As Susan draws and draws, the pencil grows shorter and shorter. What will Anaana think when she comes home? Based on author Susan Avingaq's childhood memories of growing up in an iglu, this charming story introduces young readers to the idea of using things wisely.
Authors:
Susan Avingaq was born on the land and moved to the community of Igloolik, Nunavut, in the mid-1970s. She loves to go camping and fishing whenever she can and often brings new people along to teach them these land skills. She enjoys sewing and teaching younger people important cultural practices. She is an extremely resourceful person and thinks that this is an important quality to pass on to the younger generation. She has many grandchildren, whom she likes to share her stories with.
Maren Vsetula is a teacher and educational writer. She loves to spend as much time on the land as she can, hiking, fishing, paddling, and dogsledding. She has lived and worked in Nunavut for over a decade.
Illustrator:
Charlene Chua worked as a web designer, senior graphic designer, web producer, and interactive project manager before she decided to pursue illustration as a career. Her work has appeared in American Illustration, Spectrum, and SILA's Illustration West, as well as several art books. She illustrated the children's picture books Julie Black Belt: The Kung Fu Chronicles and Julie Black Belt: The Belt of Fire. She lives in Hamilton, Ontario, with her husband and two cats.