---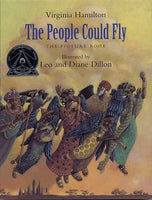 by Virginia Hamilton, illustrated by Leo and Diane Dillon
Dragonfly Books
2015, paperback
SKU: 9780553507805
Resplendent, powerful paintings by these two-time Caldecott-winning artists bring new life to the title story from the late Hamilton's 1985 collection, The People Could Fly: American Black Folktales.
Making dramatic use of shadow and light, Leo and Diane Dillon (whose half-tone illustrations also graced the original volume) ably convey the tale's simultaneous messages of oppression and freedom, of sadness and hope. "They say the people could fly. Say that long ago in Africa, some of the people knew magic," opens the narrative, as the full-color artwork reveals elegant, beautifully clothed individuals with feathered wings serenely ascending into the sky. On the following spread, images of the Middle Passage set a fittingly somber tone, depicting Africans who "were captured for Slavery. The ones that could fly shed their wings. They couldn't take their wings across the water on the slave ships. Too crowded, don't you know."
The picture-book format allows room for the relationship to develop between Sarah, who labors in the cotton fields with an infant strapped to her back, and Toby, the "old man," who utters the magic African words that give her flight. Toby helps others take flight as well (a stunning image shows seemingly hundreds linking hands and taking to the skies)-and eventually does so himself, sadly leaving some of the captives "who could not fly" behind to "wait for a chance to run." Art and language that are each, in turn, lyrical and hard-hitting make an ideal pairing in this elegant volume that gracefully showcases the talent of its creators.
All ages.