---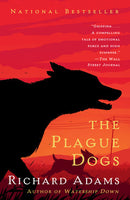 by Richard Adams
Vintage
4/5/2016, paperback
SKU: 9781101970690
Rowf, a shaggy black mongrel, and Snitter, a black-and-white fox terrier, are among dozens of animals being cruelly held in a testing facility in North West England. When one of the handlers fails to close Rowf's cage properly, the two dogs make a daring escape into the English countryside, where they befriend a red fox who helps them survive in the wild. But as rumors circulate that the dogs may have been the test subjects for biological weapons and could be carrying a terrible plague, they soon find themselves targets of a great dog hunt. Local farmers, politicians, scientists, and even the military join in the search to track them down. An unforgettable tale of fantasy and adventure, a powerful exploration of the limits of human cruelty and kindness, The Plague Dogs stands as a modern-day classic.
Reviews:
"Gripping. . . . A compelling tale of emotional force and high suspense." -- The Wall Street Journal
"Adams takes us to places where no author author has taken us." -- The Washington Post
About the Author:
Richard Adams is the author of many bestselling novels, including Watership Down (1974), Shardik (1976), The Plague Dogs (1978), The Girl in a Swing (1980), Maia (1985), and Traveller (1988), as well as several works of nonfiction, including his autobiographical The Day Gone By (1991). The winner of the Carnegie Medal and the Guardian Award for Children's Literature, he currently lives in Hampshire, England.