---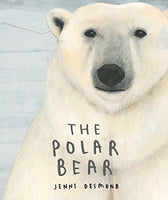 by Jenni Desmond
Enchanted Lion Books
11/15/2016
SKU: 9781592702008
A gorgeously illustrated nonfiction book about the polar bear, this is a factually accurate as well as a poetic exploration of polar bear bodies, habits, and habitats. Working in a painterly, expressive way, Jenni Desmond creates landscapes and creatures that are marked by atmosphere and emotion, telling a story about bears that engages the reader's interest in amazing facts as well as their deep sense of wonder.
Target age: 4 to 8
Reviews:
"An empathic illustrated invitation into the world of one of our planet's most vulnerable creatures." -- Maria Popova, Brain Pickings
"Following the success of The Blue Whale, Desmond has delivered another poignant and refreshing look at these magnificent animals, threatened with extinction." -- Picture Books Blogger
About the Author:
Jenni Desmond is an award-winning illustrator, artist and picture book author whose books (including her debut, The Blue Whale) have been translated into over 20 languages. She has won The New York Times Best Illustrated Book Award, the Camrbidgeshire 'Read it Again' picture book award, and a Maurice Sendak Fellowship. Jenni lives in East London UK with her husband and baby daughter. When she's not in her studio, you'll find her cooking, cycling and swapping city life for long hikes down by the sea shore or up in the hills and the mountains.