---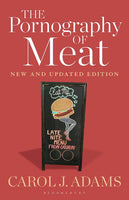 by Carol Adams
Bloomsbury Academic

10/29/2020, paperback

SKU: 9781501364396
For 30 years, since the publication of her landmark book The Sexual Politics of Meat, Carol J. Adams and her readers have continued to document and hold to account the degrading interplay of language about women, domesticated animals, and meat in advertising, politics, and media. Serving as sequel and visual companion, The Pornography of Meat charts the continued influence of this language and the fight against it.

This new edition includes more than 300 images, most of them new, and brings the book up to date to include expressions of misogyny in online media and advertising, the #MeToo movement, and the impact of Donald Trump and white supremacy on our political language. Never has this book--or Adams's analysis--been more relevant.

Reviews:
"Adams explores the links between the slaughter of animals and violence directed against women, and ties the carnivorous diet to such patriarchal ideas as 'the end justifies the means.'" --Toronto Globe and Mail
"Even readers who do not share Adams's views should find themselves challenged and perhaps even enlightened by this unique work.
" -- Library Journal
"highly readable, often eye-opening ... Adams' central thesis is compelling." -- Times Literary Supplement
About the Author:
Carol J. Adams is the author of numerous books, including Burger (Bloomsbury, 2018), Neither Man nor Beast (1993; Bloomsbury Revelations, 2018), and The Sexual Politics of Meat (1990; 25th anniversary edition, Bloomsbury, 2015). She is the co-editor of several pathbreaking anthologies, including most recently Ecofeminism: Feminist Intersections with Other Animals and the Earth (Bloomsbury, 2014, edited with Lori Gruen).