---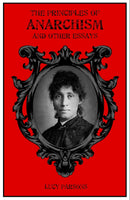 by Lucy Parsons
Poisoned Candy Press
2021, staple-bound
SKU: n/a
Includes "Principles of Anarchism," "A Word to Tramps," "Arrest in Columbus, Ohio," "The Eight-Hour Strike of 1886," "The Haymarket Martyrs," and "We Are All Anarchists." 
Lucy Eldine Gonzalez Parsons (born Lucia Carter; 1851 - March 7, 1942) was an American labor organizer, radical socialist and anarcho-communist, and a founding member of the Industrial Workers of the World.
Following her husband's 1887 execution in conjunction with the Haymarket affair, Lucy remained a leading American radical activist, with the IWW and other political organizations. She was often arrested for giving public speeches or distributing anarchist literature.
The cover comes in either red or purple, if you have a color preference, please list it under special instructions. We'll do our best to get you the color that you'd like, but we can't make any guarantees.
Be sure to check out our entire collection form Poisoned Candy Press!