---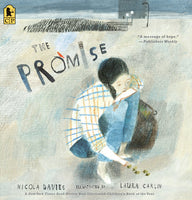 by Nicola Davies, Illustrated by Laura Carlin
Candlewick Press (MA)
3/28/2017, paperback
SKU:  9780763693039
On a mean street in a mean, broken city, a young girl tries to snatch an old woman's bag. But the frail old woman, holding on with the strength of heroes, says the thief can't have it without giving something in return: the promise, which is the beginning of a journey that will change the thieving girl's life--and a chance to change the world, for good.
Reviews:
"A message of hope infuses Davies's story... In her first picture book, Carlin creates a chalky, ashy landscape, which she gradually peppers with specks of color as the girl plants the acorns... Davies's parable-like narrative leaves a quietly powerful impression while avoiding preaching." --Publishers Weekly
"[An] earnest parable on how nature will provide an easy cure for the physical and moral sterility of urban life." --Kirkus Reviews
About the Contributors:
Nicola Davies is an award-winning author whose many books for children include Outside Your Window: A First Book of Nature, Ice Bear, Big Blue Whale, and the Silver Street Farm series. Underlying all of Nicola Davies's work is the belief that a relationship with nature is essential for every human being, and that now, more than ever, we need to renew that relationship. She lives in Wales.
Laura Carlin is the illustrator of The Iron Man by Ted Hughes, which was awarded an honorable mention in the Bologna Ragazzi Award fiction category. Her artwork has been featured in Vogue, the New York Times, and the Guardian. The Promise is her first picture book. She lives in London.