---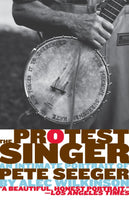 by Alex Wilkinson
Vintage
6/8/2010, paperback
SKU: 9780307390981
A spirited and intimate look at American icon and activist Pete Seeger.

Throughout his life, Pete Seeger transformed a classic American musical style into a form of peaceful protest against war, segregation, and nuclear weapons. Drawing on his extensive talks with Seeger, Alec Wilkinson delivers a first hand look at Seeger's unique blend of independence and commitment, charm, courage, energy, and belief in human equality and American democracy. We see Seeger as a  child, instilled with a love of music by his parents; as a teenager, hearing real folk music for the first time; as a young adult, singing with Woody Guthrie. And finally, Seeger the man marching with the Rev. Martin Luther King in Selma, standing up to McCarthyism, and fighting for his beloved Hudson River. The gigantic life captured in this slender volume is truly an American anthem.
Reviews:
"Wilkinson's biography reads as lucidly as if we were there with him, listening to Seeger's history as he boils maple sap down to syrup and chops his daily quota of firewood."-- Publishers Weekly
"In crisp, elegant prose, Wilkinson outlines Seeger's early life, his family's influence upon his work, his activism for peace, civil rights and the environment, and his friendships with other legends such as Woody Guthrie."-- Dallas Morning News
About the Author:
Alec Wilkinson began writing for The New Yorker in 1980. Before that, he was a policeman in Wellfleet, Massachusetts, and before that a rock-and-roll musician. He has published eight other books--two memoirs, two collections of essays, two biographical portraits, and two pieces of reporting. His honors include a Guggenheim Fellowship, a Lyndhurst Prize, and a Robert F. Kennedy Book Award. He lives with his wife and son in New York City.