---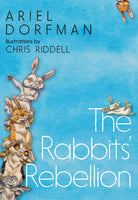 by Ariel Dorfman, Illustrated by Chris Riddell
Triangle Square
1/14/2020, hardcover
SKU: 9781609809379
The story of a mean and narcissistic king, originally written in the 1970s is both uproariously funny and distressingly on point, and will be enjoyed by children and their parents.
"Rabbits don't exist."
So decrees the new king, the Wolf of all Wolves, after conquering the rabbits' homeland. He refuses to allow even one small, fluffy tail or long, soft ear into his kingdom. He orders the birds to broadcast this message far and wide. And he summons the old monkey to photograph him in his royal finery, performing his royal deeds. But in his darkroom, the monkey sees something strange developing in the photos. Is that a floppy ear? Whose grinning bunny teeth are those? How could it be?
Ariel Dorfman's first children's book, The Rabbits' Rebellion, is a remarkable and mischievous allegory of truth and justice triumphing over political chicanery. Set in a magical animal kingdom and illustrated by the great Chris Riddell, this is a story that will have children roaring with laughter and parents raising an eyebrow with recognition.
Target age: 7 and up
About the Author:
Ariel Dorfman is the author of many novels, poems, plays, essays, and films, often set in his native South America. His plays have been staged in over a hundred countries and his books translated into more than thirty languages. He has received numerous international prizes, including the Laurence Olivier and the Time Out Awards for best play of the year for Death and the Maiden. His first book, How to Read Donald Duck, which shows the beloved Disney character to be an agent of American cultural imperialism, and which was banned in Chile upon its publication in 1971, was published in English for the first time in Fall 2018. His most recent novel is Darwin's Ghost (Seven Stories Press, 2018). The Rabbits' Rebellion, first published in the 1980s, is Dorfman's only book for children, and is being published in North America now for the first time. A prominent human rights activist, Dorfman lives with his wife Angélica in Chile and Durham, North Carolina, where he is the Walter Hines Page Emeritus Professor of Literature at Duke University. Seven Stories publishes a great number of Dorfman's books in English and Spanish, including the Spanish language edition of Death and the Maiden, La muerte y la doncella.
Chris Riddell is best known as the author and illustrator of the acclaimed The Edge Chronicles series, written with Paul Stewart. He has illustrated many other books including the award-winning children's book, Pirate Diary, 100 Hugs, and several titles with Neil Gaiman, the most recent of which is Art Matters: Because Your Imagination Can Change the World. He is also the political cartoonist for the Guardian and Observer newspapers. He lives in England.