---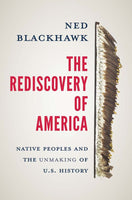 by Ned Blackhawk
Yale University Press
4/23/2023, hardcover
SKU: 9780300244052
A sweeping and overdue retelling of U.S. history that recognizes that Native Americans are essential to understanding the evolution of modern America
The most enduring feature of U.S. history is the presence of Native Americans, yet most histories focus on Europeans and their descendants. This long practice of ignoring Indigenous history is changing, however, with a new generation of scholars insists that any full American history address the struggle, survival, and resurgence of American Indian nations. Indigenous history is essential to understanding the evolution of modern America.
Ned Blackhawk interweaves five centuries of Native and non-Native histories, from Spanish colonial exploration to the rise of Native American self-determination in the late twentieth century. In this transformative synthesis he shows that
European colonization in the 1600s was never a predetermined success;

Native nations helped shape England's crisis of empire;

the first shots of the American Revolution were prompted by Indian affairs in the interior;

California Indians targeted by federally funded militias were among the first casualties of the Civil War;

the Union victory forever recalibrated Native communities across the West;

twentieth-century reservation activists refashioned American law and policy.
Blackhawk's retelling of U.S. history acknowledges the enduring power, agency, and survival of Indigenous peoples, yielding a truer account of the United States and revealing anew the varied meanings of America.

Reviews:
"Here we have a new foundation for history, showing how all aspects of America have been influenced by its complex Native-newcomer interface. . . . [Blackhawk's] elaborately documented accuracy satisfies beyond anything I've read in a career of teaching young children about American history." -- Tim McCarthy, Boswell Book Company, Milwaukee, WI
"On his search to rediscover America, Blackhawk brilliantly rewrites U.S. history, illustrating that it cannot be told absent American Indians. This is the history text we have been waiting for." -- Roxanne Dunbar-Ortiz, author of An Indigenous Peoples' History of the United States
"Richly told and deeply informed, The Rediscovery of America demonstrates the centrality of Indigenous Americans to U.S. history. Blackhawk shows that at every turn the enduring relations between natives and newcomers have shaped the course of the American republic." -- Claudio Saunt, author of the National Book Award finalist Unworthy Republic
"Ranging across the continent and across the centuries, Ned Blackhawk skillfully interweaves American history and Native American history, demonstrating conclusively that we cannot properly understand one without the other." -- Colin G. Calloway, Dartmouth College
"Refusing to tell simple stories of subordination or resistance, Ned Blackhawk shows how American politics, law, diplomacy, the economy, and popular culture become incomprehensible without a Native presence." -- Richard White, Stanford University
About the Author:
Ned Blackhawk is the Howard R. Lamar Professor of History and American Studies at Yale University, where he is the faculty coordinator for the Yale Group for the Study of Native America. He is the author of Violence over the Land: Indians and Empires in the Early American West. He lives in New Haven, CT.