---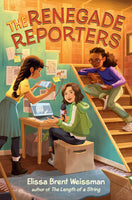 by Elissa Brent Weissman
Dial Books
06/21/2022, paperback
SKU: 9780593323045
When Ash gets kicked off her school's news show, she becomes a renegade reporter -- and makes a big discovery about technology and her fellow students' privacy.
Ash and her friends are reporters. They were ready to lead their school news show, The News at Nine, sponsored by Van Ness Media, when an unfortunate incident involving a dancing teacher, an irresponsibly reported story, and a viral video got them kicked off the crew. So Ash, Maya, and Brielle decide to start their own news show, The Underground News. And soon they stumble on a big lead: Van Ness Media, the educational company that provides their school's software, has been gathering data from all the kids at school. Their drawings, their journals, even their movements are being recorded and cataloged by Van Ness Media. But why? Ash and her friends are determined to learn the truth and report it.
Target age: 8 to 12
Reviews:
"The story features current issues and a diverse cast of characters who encounter problems and family situations that are now a part of life for many. The students have supportive adults around them as well as some who are not quite so nice. The novel is well worth rereads and discussions, but can also be enjoyed for the empowering feeling it imparts." -- School Library Connection
"Weissman uses a diverse cast to tackle the issue of data privacy in a way that will be accessible and understandable for a tween audience... The timely topic and author's note on privacy offer opportunities for further discussion, making this a solid choice for libraries and social justice book clubs." -- Booklist
"In this entertaining, thought-provoking novel... Brent Weissman's lively narrative (and an author's note at the end) offers the target age group much to think about when it comes to issues of online privacy." -- The Buffalo News
About the Author:
Elissa Brent Weissman is the award-winning author of several middle grade novels, including The Length of a String, the Nerd Camp series, and the editor of Our Story Begins, an anthology of writing and art by today's kids' book creators back when they were kids themselves. She is a graduate of Johns Hopkins University and earned a master's degree in children's literature at the University of Roehampton in London. After spending many years in Baltimore, where she taught creative writing to children, college students, and adults and was named one of CBS Baltimore's Best Authors in Maryland, Elissa currently lives with her family in Christchurch, New Zealand.