---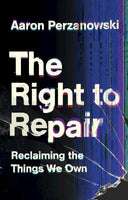 by Aaron Perzanowski
Cambrige University Press
2/8/2022, hardcover
SKU: 9781108837651
In recent decades, companies around the world have deployed an arsenal of tools - including IP law, hardware design, software restrictions, pricing strategies, and marketing messages - to prevent consumers from fixing the things they own. While this strategy has enriched companies almost beyond measure, it has taken billions of dollars out of the pockets of consumers and imposed massive environmental costs on the planet. In The Right to Repair, Aaron Perzanowski analyzes the history of repair to show how we've arrived at this moment, when a battle over repair is being waged - largely unnoticed - in courtrooms, legislatures, and administrative agencies. With deft, lucid prose, Perzanowski explains the opaque and complex legal landscape that surrounds the right to repair and shows readers how to fight back.
Reviews:
"A definitive text on a definitive issue: will we be allowed to make our things work for as long as they're useful, or will corporations use the law to force us to arrange our affairs to suit their shareholders, at the expense of our dignity, our self-determination, and our habitable future on this planet?" -- Cory Doctorow, author of Attack Surface and How to Destroy Surveillance Capitalism
"In this powerfully argued account, Perzanowski vividly illustrates how the current era of 'planned obsolescence' has eroded our fundamental right to repair. His book provides both fascinating cultural history and an ambitious but promising path forward." -- Dr. Kate Darling, MIT Research Specialist and author of The New Breed
About the Author:
Aaron Perzanowski is an expert on ownership in the digital economy and the conflict between intellectual and personal property rights. His research has appeared in leading academic journals. He's the co-author of The End of Ownership with Jason Schultz, and the co-editor of Creativity Without Law with Kate Darling.