---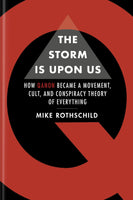 by Mike Rothschild
Melville House Publishing
6/22/2021, hardcover
SKU: 9781612199290
Its messaging can seem cryptic, even nonsensical, yet for tens of thousands of people, it explains everything: What is QAnon, where did it come from, and is the Capitol insurgency a sign of where it's going next?

On October 5th, 2017, President Trump made a cryptic remark in the State Dining Room at a gathering of military officials. He said it felt like "the calm before the storm"--then refused to elaborate as puzzled journalists asked him to explain. But on the infamous message boards of 4chan, a mysterious poster going by "Q Clearance Patriot," who claimed to be in "military intelligence," began the elaboration on their own.
In the days that followed, Q's wild yarn explaining Trump's remarks began to rival the sinister intricacies of a Tom Clancy novel, while satisfying the deepest desires of MAGA-America. But did any of what Q predicted come to pass? No. Did that stop people from clinging to every word they were reading, expanding its mythology, and promoting it wider and wider? No.
Why not? Who were these rapt listeners? How do they reconcile their worldview with the America they see around them? Why do their numbers keep growing? Mike Rothschild, a journalist specializing in conspiracy theories, has been collecting their stories for years, and through interviews with QAnon converts, apostates, and victims, as well as psychologists, sociologists, and academics, he is uniquely equipped to explain the movement and its followers.
In The Storm Is Upon Us, he takes readers from the background conspiracies and cults that fed the Q phenomenon, to its embrace by right-wing media and Donald Trump, through the rending of families as loved ones became addicted to Q's increasingly violent rhetoric, to the storming of the Capitol, and on.
And as the phenomenon shows no sign of calming despite Trump's loss of the presidency--with everyone from Baby Boomers to Millennial moms proving susceptible to its messaging--and politicians starting to openly espouse its ideology, Rothschild makes a compelling case that mocking the seeming madness of QAnon will get us nowhere. Rather, his impassioned reportage makes clear it's time to figure out what QAnon really is -- because QAnon and its relentlessly dark theory of everything isn't done yet.
Reviews:
"I hope everyone reads this book. It has become such a crucial thing for people to understand--for all of us." --Erin Burnett, CNN
"Rothschild's book is a profoundly sobering read for anyone who retains faith in the inevitable progress of human reason, or a belief that in a free-speech environment where all opinions are given equal weight....Rothschild's book emphasises the truth that among all the complex crises of our times, the fundamental one is that of information, its quality and its reach." --Tim Adams, The Guardian
About the Author:

Mike Rothschild is a journalist focused on the intersections between internet culture and politics as seen through the dark glass of conspiracy theories. He has specialized in an investigation of the QAnon conspiracy cult since its inception in 2018, and is one of the first journalists to reveal its connections to past conspiracy theories and scams. Rothschild's expertise has led to his becoming a leading commentator on the subject for The New York Times, The Washington Post, NPR, CNN, MSNBC, the BBC, and elsewhere.