---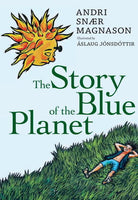 by Andri Snaer Magnason, translated by Julian Meldon D'Arcy
Illustrated by Aslaug Jonsdottir
Seven Stories Press
1999, 2012 translation, paperback
SKU: 9781609805067
Brimir and Hulda are best friends who live on a small island on a beautiful blue planet where there are only children and no adults. Their planet is wild and at times dangerous, but everything is free, everyone is their friend, and each day is more exciting than the last.
One day a rocket ship piloted by a strange-looking adult named Gleesome Goodday crashes on the beach. His business card claims he is a "DreamComeTrueMaker and joybringer," and he promises to make life a hundred times more fun with sun-activated flying powder and magic-coated skin so that no one ever has to bathe again. Goodday even nails the sun in the sky and creates a giant wolf to chase away the clouds so it can be playtime all the time. In exchange for these wonderful things, Goodday asks only for a little bit of the children's youth--but what is youth compared to a lot more fun? The children are so enamored with their new games that they forget all the simple activities they used to love.
During Goodday's great flying competition, Hulda and Brimir fly too high to the sun and soar to the other side of planet, where they discover it is dark all the time and the children are sickly and pale. Hulda and Brimir know that without their help, the pale children will die, but first they need to get back to their island and convince their friends that Gleesome Goodday is not all that he seems.
A fantastical adventure, beautifully told, unfolds in a deceptively simple tale. The Story of the Blue Planet will delight and challenge readers of all ages.
Target age: 9 to 12