---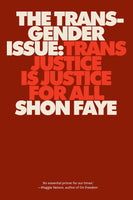 by Shon Faye
Verso Press
09/13/2022, paperback
SKU: 9781839768392
An incisive case for trans justice from a powerful new voice
In this brilliant introduction to trans politics, journalist Shon Faye gives an incisive overview of systemic transphobia and argues that the struggle for trans rights is necessary to any struggle for social justice.
So often, Faye argues, trans people are understood as a "side issue," the subjects of a toxic and increasingly polarized debate which generates reliable controversy for newspapers and talk shows. This media frenzy conceals a simple fact: that we are having the wrong conversation, a conversation in which trans people themselves are reduced to a talking point and denied a meaningful voice.
With skill, rigor, and heart, Faye uncovers the reality of what it means to be trans in a transphobic society. In this compellingly readable study, she explores issues of class, family, housing, healthcare, sex work, the prison system, and trans participation in the LGBTQ+ and feminist communities. What she finds, ultimately, is that when we fight for trans liberation, we fight for a better world for us all.
Reviews:
"From the very first words... it is clear the reader is in the hands of someone with absolute clarity about the world we live in, and the one we deserve. Shon refutes those who seek to turn trans people's lives into a subject of debate. Instead, she shows us that liberation for trans people is intimately tied to the struggle for workers' rights, an end to the violent systems of policing and prisons, and bodily autonomy through universal healthcare. Refusing to water down the radicalism and urgency of her demands, Shon's argument for justice is both a heartfelt outcry against injustice, and an utterly convincing vision for change rooted in analysis and research." -- Florence Welch, @BetweenTwoBooks
"Shon Faye makes a compelling case that transgender issues are inexorably linked with other social justice causes. The result is a bold and pragmatic guide for challenging societal transphobia comprehensively and intersectionally." -- Julia Serano, author of Sexed Up
"My god, this book couldn't be more timely here in the USA. I hope that all of my trans family come to understand from this book that no matter how hard others try to make us an issue, we are first and always people, individuals, and brave ones at that." -- Kate Bornstein, author of Gender Outlaw
"Writing with astonishing patience, clarity, and ethical force, Shon Faye has gifted us an essential primer for our times. The Transgender Issue calls us into a much-needed solidarity, and makes the project of constructing and inhabiting a more free and just world for everyone feel urgent, possible, and exhilarating." -- Maggie Nelson, author of On Freedom
About the Author:
Shon Faye is a writer based in London. She was an editor-at-large at Dazed, and her writing has been published by the Guardian, the Independent and Vice, among others. Faye recently launched an acclaimed podcast series, Call Me Mother, interviewing trailblazing LGBTQ elders. This is her first book.