---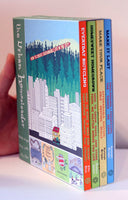 by Raleigh Briggs, Elly Blue, and Ian Giesbrecht

Microcosm Publishing
2015, box set
SKU: 9781621069294
Want to learn to make your own soap? Mend your torn clothes? Grow your own microgreens? Carry your groceries and children on a bicycle? This four book box set teaches you the basics and beyond. Authors Raleigh Briggs, Ian Giesbrecht, and Elly Blue are your friendly guides to a new, cozy, sustainable life at home and in the world. Live your own green revolution!
Books included in this set:
Make Your Place by Raleigh Briggs
Make It Last by Raleigh Briggs
Sprouts by Ian Giesbrecht
Everyday Bicycling by Elly Blue
Note: image does not include this edition's titles.
Reviews:
"What anyone who wants to start enjoying bicycle transportation can use: a collection of hard-won wisdom, delivered by someone who really cares." --Sarah Goodyear, The Atlantic Cities
"I recommend using Make Your Place: Affordable, Sustainable Nesting Skills by Raleigh Briggs as one of your go-to references. This hand-illustrated book offers simple, practical skills that anyone can learn and apply to everyday life ... One of the features I love most about this book is its conversational and witty tone. Briggs is never condescending and instead inspires the reader to better his or her life with his simple tutorials. Briggs also urges readers to be safe and offers helpful advice for every step of the way. Even though some of the recipes call for uncommon ingredients, I constantly refer to this book when I'm looking for natural and sustainable answers for my home." --"Natural Home Magazine"
About the Authors:
Robyn Jasko is a local foods activist and community garden starter. She is the co-founder of GrowIndie.com, a site promoting sustainable lifestyles, homesteading, eating well, and living local. Her first book is Homesweet Homegrown: How to Grow, Make and Store Food, No Matter Where You Live.
Elly Blue is an author and activist who lives in Portland, Oregon. She writes about the economic and equity cases for bicycle transportation.
Raleigh Briggs is the author of bestselling Make Your Place.