---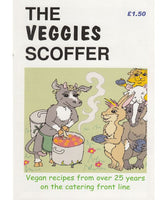 Edited by Ronny
Active
1/1/2013, pamphlet
Veggies Catering Campaign have served quality vegan food to the masses since 1984. This booklet brings you a selection fo tried and tested snack, main meal and cake recipes that have proven popular together with guest recipes from other catering collectives. No ethical kitchen should be without a copy!
Compiled and edited by vegan chef Ronny, author of the legendary Scoffer series.

Includes Samosas for Social Change, Bhajis for a better Britain, Pakoras for a peaceful planet, sweet potato curry, veggie stew with dumplings, creamy vegetable pie, top pizza, focaccia-style bread, Scottish Stovie, Kusherie Egyptian rice and lentils with tomato, recipe for 700 Veggies Burgers, Burgermix spaghetti meatballs, vegan sausage rolls, garlic bread, soup suggestions by the Anarchist Teapot, chickpea curry by Shambhu's, vegan raita, deep-fried Vegan Mars Bars, ginger cake, chocolage cake, buffet ideas, pink coleslaw, quinoa tabbouleh, potato salad, Moussaka by Green Garden Cafe, ratatouille.