---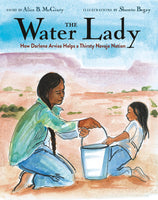 by Alice B. McGinty, Illustrated by Shonto Begay
Schwartz & Wade Books

3/30/2021, hardcover
SKU: 9780525645009
This inspiring picture book tells the true story of a woman who brings desperately needed water to families on the Navajo reservation every day.
Underneath the New Mexico sky, a Navajo boy named Cody finds that his family's barrels of water are empty. He checks the chicken coop-- nothing. He walks down the road to the horses' watering hole. Dry. Meanwhile, a few miles away, Darlene Arviso drives a school bus and picks up students for school. After dropping them off, she heads to another job: she drives her big yellow tanker truck to the water tower, fills it with three thousand gallons of water, and returns to the reservation, bringing water to Cody's family, and many, many others. Here is the incredible and inspiring true story of a Native American woman who continuously gives back to her community and celebrates her people.
Reviews:
[An] illuminating story about a contemporary child's experience with water insecurity, set in the Navajo Nation." -- The Horn Book
"Navajo artist Begay's vibrant ink and watercolor art brings a stirring emotional undercurrent to this community-oriented narrative." -- Publishers Weekly
About the Contributors:
Alice McGinty is the award-winning author of over forty books for children, including A Story for Small Bear, as well as The Girl Who Named Pluto, which was called inspiring in a Kirkus starred review. She also wrote Darwin, an Orbis Pictus Honor Book and one of Booklist's Top 10 Biographies for Youth, which received three starred reviews. Her picture book, Rabbi Benjamin's Buttons, was named a Sydney Taylor Notable Book. She also runs a writing camp for kids, Words on Fire.
Shonto Begay is the illustrator of several picture books, including The Mud Pony, The Magic of Spider Woman, and The Boy Who Dreamed of an Acorn. He is the the fifth child of sixteen born to a Navajo medicine man. Shonto attended federal boarding schools all over the Navajo Indian Reservation in his elementary school years. Later, he attended the Institute of American Indian Arts in Santa Fe, New Mexico and received his Associate of Fine Arts degree, and later earned a degree from the California College of Arts & Crafts. He resides in Arizona.