---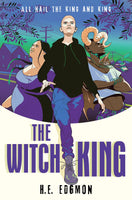 by H.E. Edgmon
Inkyard Press
4/19/2022, paperback
SKU: 9781335425843
To save a fae kingdom, a trans witch must face his traumatic past and the royal fiancé he left behind.
In Asalin, fae rule and witches like Wyatt Croft...don't. Wyatt's betrothal to fae prince Emyr North was supposed to change that. But when Wyatt lost control of his magic one devastating night, he fled to the human world.
Now a coldly distant Emyr has hunted him down. Despite transgender Wyatt's newfound identity and troubling past, Emyr claims they must marry now or risk losing the throne. Jaded, Wyatt strikes a deal with the enemy, hoping to escape Asalin forever. But as he gets to know Emyr again, Wyatt realizes the boy he once loved may still exist. And as the witches face worsening conditions, he must decide what's more important--his people or his freedom.
Target age: 13 and up
Reviews:
"Edgmon's ebullient debut depicts a variety of trans perspectives with tender sensitivity, and quintessential walking disaster Wyatt's self-deprecating humor, punk glee, and surprisingly level head are vividly lovable. (...) readers will adore this revolution-tinged celebration of trans joy, which refreshingly builds its conflict without jumping for trauma tropes." - Publishers Weekly, Starred Review
"Edgmon's debut is a spellbinding duology starter, ultimately driven by its core cast of complicated and lovable characters, who will keep readers laughing with deftly written, witty dialogue that never veers into cliché, and a richly layered world that feels incredibly real, with high-stakes fascism, corruption, and oppression. Readers will be left eager for the sequel to this fiery stunner of a fantasy." - Booklist
"This romantically charged, anti-fascist fantasy presents a diverse cast of queer characters, (...) the page-turning resolution promises an irresistible duology closer to come." - Kirkus Reviews
"A complex fantasy debut, rich in nuanced LGBTQIA+ representation and timely social commentary, perfect for fans of Adam Silvera, Holly Black, and Rin Chupeco." - School Library Journal
About the Author:
H.E. Edgmon was born in the Deep South but has had many homes, dropped out of school to do gay stuff, and is at least a little feral. In both their writing and daily life, they aim to center the voices of Indigenous people, trans people, and survivors of trauma. It is always their goal to make fascists uncomfortable. They have an eccentric little family of their own design, several very sensitive pets, and a lot of opinions.