---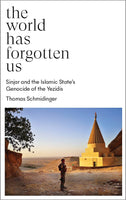 by Thomas Schmidinger
Pluto Press
3/20/2022, paperback
SKU: 9780745346052
The persecution of the Yezidis, a Gnostic religious community originating in Upper Mesopotamia, has been ongoing since at least the 10th century. On 3 August 2014, Islamic State attacked the Yezidi community in Sinjar, Kurdistan. Thousands were enslaved or killed in this genocide, and 100,000 people fled to Mount Sinjar, permanently exiled from their homes.
Here, Thomas Schmidinger talks to the Yezidis in Iraq who tell the history of their people, why the genocide happened and how it affects their lives today. This is the first full account of these events, as told by the Yezidis in their own words, to be published in English.
The failure of the Kurdistan Peshmerga of the PDK in Iraq to protect the Yezidis is explored, as is the crucial support given by the Syrian-Kurdish YPG. This multi-faceted and important history brings the fight and trauma of the Yezidis back into focus, calling for the world to remember their struggle.
Reviews:
"The discrimination, exclusion and persecution of the Yezidis did not just begin in 2014 with the so-called Islamic State. Thomas Schmidinger shows with great dedication the anatomy of a subtle genocide against the Yezidis in last two hundred years." - Professor Jan Ilhan Kizilhan, Director of the Institute for Genocide and Peace Studies, Stuttgart
"Fills a void in the literature. Through impressive first-hand documentation, the book explains the culture and history of this unique community in sympathetic terms and details the rapacious genocidal aggression of ISIS to obliterate this ancient Mesopotamian community." - Tareq Y. Ismael, Professor of Political Science, University of Calgary, Canada
"A comprehensive, indispensable work." - Südwind
About the Author:
Thomas Schmidinger is a Political Scientist and Cultural Anthropologist based at the University of Vienna. He is Secretary General of the Austrian Association for Kurdish studies. He is the author of Rojava, which received the Mezlum Bagok award.