---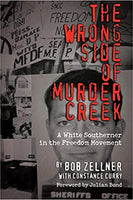 by Bob Zellner with Constance Curry
NewSouth Books
1/15/2019, paperback
SKU: 9781588383945
Even forty years after the civil rights movement, the transition from son and grandson of Klansmen to field secretary of SNCC seems quite a journey. In the early 1960s, when Bob Zellner's professors and classmates at a small church school in Alabama thought he was crazy for even wanting to do research on civil rights, it was nothing short of remarkable. Now, in his long-awaited memoir, Zellner tells how one white Alabamian joined ranks with the black students who were sitting-in, marching, fighting, and sometimes dying to challenge the Southern "way of life" he had been raised on but rejected. Decades later, he is still protesting on behalf of social change and equal rights. Fortunately, he took the time, with co-author Constance Curry, to write down his memories and reflections. He was in all the campaigns and was close to all the major figures. He was beaten, arrested, and reviled by some but admired and revered by others. The Wrong Side of Murder Creek, winner of the 2009 Lillian Smith Book Award, is Bob Zellner's larger-than-life story, and it was worth waiting for.
Reviews:
The captivating and profound testimony of a patriot who did everything he could to help make his nation a better place, The Wrong Side of Murder Creek is highly recommended. -- Midwest Book Review
If you want a taste of what life on the front lines was like in the Southern civil rights movement, you have to read this book. -- Jo Freeman, Senior Women Web
About the Authors:
Bob Zellner now lives in Fairhope, Alabama.
Atlanta-based Constance Curry is a civil rights veteran and has written several books and produced a documentary film.