---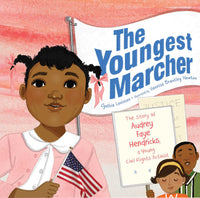 by Cynthia Levinson, illustrated by Vanessa Brantley Newton
Atheneum Books for Young Readers
2017, hardcover
SKU: 9781481400701
Meet the youngest known child to be arrested for a civil rights protest in Birmingham, Alabama, 1963, in this moving picture book that proves you're never too little to make a difference.
Nine-year-old Audrey Faye Hendricks intended to go places and do things like anybody else.
So when she heard grown-ups talk about wiping out Birmingham's segregation laws, she spoke up. As she listened to the preacher's words, smooth as glass, she sat up tall. And when she heard the plan-- picket those white stores! March to protest those unfair laws! Fill the jails!--she stepped right up and said, I'll do it! She was going to j-a-a-il!
Audrey Faye Hendricks was confident and bold and brave as can be, and hers is the remarkable and inspiring story of one child's role in the Civil Rights Movement.
About the Authors:
Cynthia Levinson was in high school when Audrey Faye Hendricks marched to jail, and she knows she would not have been as brave as Audrey. But when Cynthia met Audrey forty-five years later, she knew she had to write a book about her for young readers. She spent more than three years interviewing marchers and researching the events. Her book We've Got a Job: The 1963 Birmingham Children's March tells the story for older readers. Cynthia has also written about social justice in Watch Out for Flying Kids: How Two Circuses, Two Countries, and Nine Kids Confront Conflict and Build Community. She and her husband divide their time between Austin, Texas, and Boston, Massachusetts.
Vanessa Brantley Newton is a self-taught artist and has attended both FIT and SVA of New York, where she studied fashion and children's illustration. Vanessa is the illustrator of Ruby's New Home, A Team Stays Together!, and Justin and the Bully--all by Tony and Lauren Dungy--as well as Presenting...Tallulah by Tori Spelling. She hopes that when people look at her work, it will make them feel happy in some way, or even reclaim a bit of their childhood.