---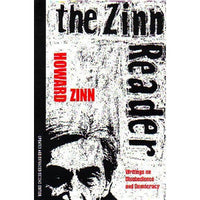 by Howard Zinn
Seven Stories Press
1997,2009
SKU: 9781583228708
Perhaps no other radical historian has reached as many hearts and minds as Howard Zinn has with his decades of clear and impassioned writings on subjects such as war, race, politics, economic justice, and history itself.
The Zinn Reader represents the first time Zinn has attempted to present the depth and breadth of his concerns in one volume. The result is a monumental book, one that will remain-alongside A People's History of the United States-as an essential and necessary Zinn text.
Includes sections on race, class, war, law, history, and "means and ends," each comprised of Zinn's best writings on the topic, with new introductions by Zinn to place each piece in its historical context.
A lot has happened since the publication of the original Zinn Reader in 1997, and this second edition is completely updated for the new decade.