---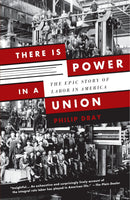 by Philip Dray

Anchor Books
9/20/2011
SKU: 9780307389763
From the nineteenth-century textile mills of Lowell, Massachusetts, to the triumph of unions in the twentieth century and their waning influence today, the contest between labor and capital for the American bounty has shaped our national experience.
In this stirring new history, Philip Dray shows us the vital accomplishments of organized labor and illuminates its central role in our social, political, economic, and cultural evolution. His epic, character-driven narrative not only restores to our collective memory the indelible story of American labor, it also demonstrates the importance of the fight for fairness and economic democracy, and why that effort remains so urgent today.
Reviews:
"Any union leader working to define and strengthen the role of organized labor in the 21st century must read There Is Power in a Union, a comprehensive and fascinating history of the American labor movement." -- Michael Winship, President, Writers Guild of America, East (AFL-CIO)
"From the Lowell Mills of antebellum America to the global assembly lines of our own day, Philip Dray offers a panoramic narrative of the work and struggle, the triumph and tragedy, that has been the fate of trade unionism in the United States. His lively and insightful history belongs on the shelf and in the hands of all those who want to organize ourselves out of the social and economic predicament in which the nation now finds itself." -- Nelson Lichtenstein, Professor of History and Director of the Center for the Study of Work, Labor, and Democracy at the University of California, Santa Barbara
"An exemplary history of the American labor movement, from its time-shrouded beginnings to its murky present . . . in the tradition of Eric Foner and Studs Terkel." -- Kirkus Reviews
About the Author:
Philip Dray is the author of At the Hands of Persons Unknown: The Lynching of Black America, which won the Robert F. Kennedy Book Award and was a finalist for the Pulitzer Prize. His book Capitol Men: The Epic Story of Reconstruction Through the Lives of the First Black Congressmen was a New York Times Notable Book and received the Peter Seaborg Award for Civil War Scholarship. He lives in Brooklyn, New York.