---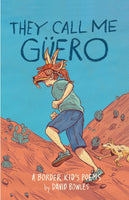 by David Bowles
Cinco Puntos Press
11/27/2018, paperback
SKU: 9781947627079
Twelve-year-old Güero is Mexican American, at home with Spanish or English and on both sides of the river. He's starting 7th grade with a woke English teacher who knows how to make poetry cool.
In Spanish, "Güero" is a nickname for guys with pale skin, Latino or Anglo. But make no mistake: our red-headed, freckled hero is puro mexicano, like Canelo Álvarez, the Mexican boxer. Güero is also a nerd--reader, gamer, musician--who runs with a squad of misfits like him, Los Bobbys. Sure, they get in trouble like anybody else, and like other middle-school boys, they discover girls. Watch out for Joanna! She's tough as nails.
But trusting in his family's traditions, his accordion and his bookworm squad, he faces seventh grade with book smarts and a big heart. Life is tough for a border kid, but Güero has figured out how to cope.
He writes poetry.
Target age: 10-14
Reviews:
"In this slim verse novel, Bowles splendidly translates border life via loosely connected vignettes in an eclectic mix of poetic forms. Güero's voice brims with humor, wit, and bits of slang, and a diverse cast of characters offers hints of other cultures. The author, however, does inject some complex themes and topics for rich discussion, touching on immigration, prejudice, and even the narrator's nickname, 'güero, ' a term used to refer to light-skinned men and boys. Güero occasionally faces flak from a few schoolmates on account of his pale, freckled skin and copper hair, resulting in a revealing exchange with his dad: 'M'ijo, pale folks catch all the breaks / here and in Mexico, too. Not your fault. / Not fair. Just the way it's been for years.' A valuable, too-brief look at the borderlands."--Kirkus
"With They Call Me Güero, Bowles has added an important text to borderland writing that would have made the great Gloria Anzaldúa proud. This is a collection that resonates with readers, and that given the current political landscape, demands to be read."--Pank