---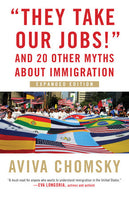 by Aviva Chomsky
Beacon Press
4/24/2018, paperback
SKU: 9780807057162
Revised and expanded edition of the groundbreaking book which demystifies twenty-one of the most widespread myths and beliefs about immigrants and immigrations.
In "They Take Our Jobs!" Aviva Chomsky challenges the underlying assumptions that fuel misinformed claims about immigrants, radically altering our notions of citizenship, discrimination, and U.S. history. Since it was first published, many of the same myths about immigration such as "immigrants take American jobs," " immigrants don't pay taxes," and "immigrants increase crime" continue to be perpetuated and used to promote aggressive anti-immigration policies.
In a new introduction, Chomsky reflects on the events of the past ten years. She analyzes declining Mexican immigration patterns, illuminates Mexico's little-known Southern Border Program, and assesses Obama's complicated legacy as "deporter-in-chief" which, Chomsky argues, inadvertently laid the groundwork for Trump's anti-immigrant racism.
About the Author:
Aviva Chomsky is a professor of history and the coordinator of Latin American Studies at Salem State University. The author of several books, including Undocumented, Chomsky has been active in Latin American solidarity and immigrants' rights movements for over thirty years. She lives in Salem, Massachusetts.