---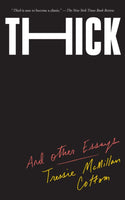 by Tressie McMillan Cottom
New Press
10/1/2019, paperback
SKU: 9781620975879
In eight highly praised treatises on beauty, media, money, and more, Tressie McMillan Cottom--award-winning professor and acclaimed author of Lower Ed--is unapologetically "thick": deemed "thick where I should have been thin, more where I should have been less," McMillan Cottom refuses to shy away from blending the personal with the political, from bringing her full self and voice to the fore of her analytical work. Thick "transforms narrative moments into analyses of whiteness, black misogyny, and status-signaling as means of survival for black women" (Los Angeles Review of Books) with "writing that is as deft as it is amusing" (Darnell L. Moore).
This "transgressive, provocative, and brilliant" (Roxane Gay) collection cements McMillan Cottom's position as a public thinker capable of shedding new light on what the "personal essay" can do. She turns her chosen form into a showcase for her critical dexterity, investigating everything from Saturday Night Live, LinkedIn, and BBQ Becky to sexual violence, infant mortality, and Trump rallies.
Collected in an indispensable volume that speaks to the everywoman and the erudite alike, these unforgettable essays never fail to be "painfully honest and gloriously affirming" and hold "a mirror to your soul and to that of America" (Dorothy Roberts).
Reviews:
"Thick is aptly named, for McMillan Cottom is no intellectual lightweight--she walks heavy, bringing together her singular sociological insights with compelling and relatable storytelling."--Brittney Cooper, author of Eloquent Rage
"Black women are uniquely attuned to the hydra that bell hooks names the imperialist white supremacist capitalist patriarchy. Publics should trust black women. Thick proves why readers should trust Tressie McMillan Cottom's black-people-loving writing that is as deft as it is amusing. Her words are a sword. She comes out swinging her blade at the hydra's head with unmatched courage."--Darnell L. Moore, author of No Ashes in the Fire
About the Author:
Tressie McMillan Cottom is an associate professor of sociology at Virginia Commonwealth University and the author of Lower Ed. Her work has been featured by The Daily Show, the New York Times, the Washington Post, PBS, NPR, Fresh Air, and The Atlantic, among others. In 2020, McMillan Cottom was awarded a MacArthur Fellowship. She lives in Richmond, Virginia.