---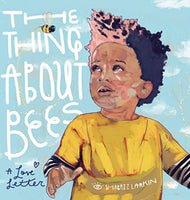 by Shabazz Larkin

Readers to Eaters
8/1/2019
SKU: 9780998047799
A love poem from a father to his two sons, and a tribute to the bees that pollinate the foods we love to eat.
I HAVE A LOT TO LEARN ABOUT BEES. I wrote this book because I have a ridiculous fear of bees. When my sons were born I didn't want to pass my fear to them, so I set out to discover all I could about the little buzzers. I learned three things about bees. First, I learned that every living creature has a special part to play in the world, that includes you. Second, when I learn more about a scary thing, the thing feels less scary to me. Third, I researched which bees and wasps are kind and which are kinda mean. I made a guide to help you see the difference, too. It's brave to try to understand the things that scare us. Now, go be brave.
Love, Shabazz
Target age: 3 to 6
Reviews:
"The Thing About Bees is sweet as honey and lyrical as a song. Larkin takes the stinging fear out of bees as he connects pollinators with raspberries for pancakes, picnics with watermelon, and the strawberry heart love of a father for his buzzing kids. This book is perfect for any kids who, like mine, fear bees and want to understand why they exist." -- Anna Mulé, Executive Director, Slow Food USA
"Larkin, a father of young children and a profound melissophobe, dug into the dizzying variety of bee species and the roles they play in the global food web, all in order to ease his own fear and avoid passing that fear on to his children. The result is a sweet, gentle picture book that, with Larkin's playful, abstract art, can inspire a sense of wonder and respect for nature's buzzing buddies. Be sure to check out the 'How Not to Get Stung' chart at the back." -- Civil Eats
"The Thing About Bees is a fun read and filled with important lessons --for kids and adults, about how essential bees are to the food we love to eat! This book will spark the curiosity in every child to learn more about the power of pollinators."-- Nona Evans, Executive Director, Whole Kids Foundation
About the Author:
Shabazz Larkin made his illustrator debut with FARMER WILL ALLEN AND THE GROWING TABLE and his author/illustrator with A MOOSE BOOSH: A FEW CHOICE WORDS ABOUT FOOD. Both were named Notable Children's books by the American Library Association. He is also an advertising creative director and multi-disciplinary artist, painting vibrant portraiture on canvas, typographic printing techniques and film. He is most known for his "Black Magic" collection, a series of portraits that capture the beauty of resilience in black culture. He lives in Nashville, TN.