---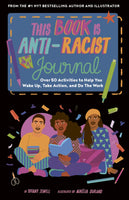 by Tiffany Jewell, Illustrated by Aurélia Durand
Frances Lincoln, Ltd.
2/2/2021, paperback
SKU: 9780711263031
An official companion to the #1 New York Times bestseller, this guided journal contains more than 50 activities to support your anti-racism journey.
In This Book Is Anti-Racist, Tiffany Jewell and Aurélia Durand gave us an essential volume to understand anti-racism. Now, in the journal companion, understand your anti-racist self and dive further into the work. Within the vibrantly illustrated pages, you will find some familiar information along with new reflections and prompts to go deeper.
This anti-racist toolkit gives you space to learn and grow through activities centered around identity, history, family, your universe, disruption, self-care, privilege, art, expression, and much more, including:
Create a map of you by drawing, collaging, sticking, and painting your many and favorite social and personal identities
Discover how diverse your universe is by writing down the races and ethnicities of the people in your life
Design your own buttons that share your beliefs, values, and what you stand for
Write a letter to your future self to share your dreams and how you are growing into your anti-racism
Make a plan and be ready for scenarios when you are confronted by racist comments, actions, and policies
Brainstorm your anti-racist vision of what our communities will look like without racism and how we can get there
Target age: 11 to 15
"Continue to stay awake, start taking action, and always lean into the work of disrupting racism. Together, we can abolish the system that continues to misuse and abuse power and collectively work for anti-racism." --Tiffany Jewell
About the Contributors:
Tiffany Jewell, author of the #1 New York Times bestseller This Book Is Anti-Racist, is a Black biracial writer and Anti-Racist Montessori educator and consultant. She spends her time baking bread and macarons, building LEGOS, watching British detective shows, and dreaming up how she can dismantle white supremacy. Tiffany currently lives in Western Massachusetts (on the occupied land of the Wabanaki and the Nipmuck) with her two young activists, her partner, and a turtle she's had since she was nine. 
Aurélia Durand is a French illustrator based in Paris. Her work, which includes the illustrations for the #1 New York Times bestseller This Book Is Anti-Racist, is dedicated to representing people of color in society, and she uses bold art as a vivid demonstration. "I use vibrant colors and joyful music to spread good vibes to talk about diversity and open a conversation about why it matters to include more color in our society." She wants to create more nuanced illustrative stories by portraying women of color standing proudly and fiercely. Her work has been featured in advertising campaigns, galleries, and editorial magazines. Her clients include Apple, Refinery29, and Tinder. She shares her work online on different platforms, mainly Instagram, where she posts daily illustrations, live paintings, and animations.