---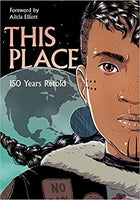 by Kateri Akiwenzie-Damm, Sonny Assu, Brandon Mitchell, Rachel Qitsualik-Tinsley, Sean Qitsualik-Tinsley, David A. Robertson, Niigaanwewidam James Sinclair, Jen Storm, Richard Van Camp, Katherena Vermette, Chelsea Vowel, Tara Audibert (illustrator), Kyle Charles (illustrator), Gmb Chomichuk (illustrator), Natasha Donovan (illustrator), Scott B. Henderson (illustrator), Andrew Lodwick (illustrator), Scott A. Ford (illustrator), Donovan Yaciuk (illustrator), Ryan Howe (illustrator) and foreword by Alicia Elliott
Highwater Press
4/30/2019, paperback
SKU: 9781553797586
Explore the past 150 years through the eyes of Indigenous creators in this groundbreaking graphic novel anthology. Beautifully illustrated, these stories are an emotional and enlightening journey through Indigenous wonderworks, psychic battles, and time travel. See how Indigenous peoples have survived a post-apocalyptic world since Contact.
Reviews:
"This Place is the graphic novel I've waited for my whole life, and the graphic novel Canada has needed for 150 years. The stories contained within its pages are both beautifully rendered and vitally necessary. They represent a history not only largely untold and unknown, but one obscured, hidden from sight, so that other stories may occupy a privileged place in defining a national story. Their importance is exquisitely captured on these pages, told by some of the leading artists working today. This is an essential book, for comic fans, teachers, and anyone who wants to learn the stories of this place we now share." --Jesse Wente, broadcaster and film critic
Authors:
Jennifer Storm is an Ojibway writer from the Couchiching First Nation in Northwestern Ontario. Born and raised in Winnipeg, Manitoba, Jennifer completed Deadly Loyalties, her first novel, at age 14. In 2006, Jennifer received the Manitoba Aboriginal Youth Achievement Award as well as the Helen Betty Osborne Award.

Richard Van Camp, a proud member of the Dogrib (Tlicho) Nation from Fort Smith, NWT, is the author of the novel The Lesser Blessed (also a feature film), and four collections of short stories, including Night Moves. He has published children's books and baby books, including Little You. He is also author of the graphic novel Three Feathers (in English, Bush Cree, and Dene).

Katherena Vermette is a Metis writer of poetry, fiction, and children's literature. Her first book, North End Love Songs, won the 2013 Governor General Literary Award for Poetry. Her poetry and fiction have appeared in several literary magazines and anthologies. She holds a Master of Fine Arts from the University of British Columbia, and lives in Winnipeg, Manitoba.

Chelsea Vowel is Métis from manitow-sâkahikan (Lac Ste. Anne) Alberta, currently residing in amiskwacîwâskahikan (Edmonton). Mother to six girls, Chelsea is a public intellectual, writer, and educator whose work intersects language, gender, Métis self-determination, and resurgence. Cohost of Indigenous feminist sci-fi podcast Métis in Space and author of Indigenous Writes: A Guide to First Nations, Métis & Inuit Issues in Canada, Chelsea blogs at apihtawikosisan.com and makes legendary bannock.

Tara Audibert is a Wolatoqiyik artist, film maker, and illustrator with 20 years' experience in animation, comics, and fine art. Tara aspires to combine traditional First Nations art and storytelling with contemporary design and digital mediums. She runs Moxy Fox Studio and her first independent animated film The Importance of Dreaming, was released in 2017. She is a founder of the Ni'gweg Collective and the app "NITAP: Legends of the First Nations".

Kyle Charles is a First Nations writer/illustrator and has drawn for series like Roche Limit: Clandestiny and Her Infernal Descent. He has also written and illustrated short stories for publishers like Heavy Metal and OnSpec Magazine.

GMB Chomichuk is an award-winning writer, illustrator and public speaker. His work has appeared in film, television, books, comics and graphic novels. Sometimes he writes and/or illustrates occult suspense stories like The Imagination Manifesto, Midnight City and Underworld, science fiction works like Raygun Gothic and Infinitum, or inspirational all-ages adventure stories like Cassie and Tonk. He wants you to join the fight and make comics. Watch his creative process in the Kelly-Anne Riess documentary Artists By Night.

Natasha Donovan (she/her/hers) is a self-taught illustrator from Vancouver, British Columbia. She has a degree in Anthropology from the University of British Columbia. Before starting out as a freelance artist, she worked in publishing at the University of Victoria. Her sequential work has been published in the Other Side Anthology. Natasha is a member of the Métis Nation of British Columbia. She lives in Bellingham, Washington.
Scott B. Henderson (he/him/his) has worked as an illustrator for comics, portraiture, and advertising art. He is author/ illustrator of the sci-fi/fantasy comic, The Chronicles of Era and illustrated two comics for the Canadian Air Force's For Valour series, the bestselling graphic novel series 7 Generations, selected titles from the Tales From Big Spirit series, and, most recently, the graphic novel, Betty: The Helen Betty Osborne Story. Scott is a graduate of the University of Manitoba's School of Art.

Andrew Lodwick is an artist and printer based in Winnipeg, Manitoba.

Winnipeg, Manitoba, color artist Donovan Yaciuk has worked as a colorist for such companies as Marvel, DC and Dark Horse comics.