---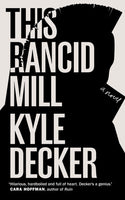 by Kyle Decker
PM Press
4/18/2023, paperback
SKU: 9781629633701
With his blue mohawk and ragged leather jacket, Alex Damage fits in to only a small pocket of 1981 Los Angeles: the dynamic, changing punk scene.
In this world, he survives on favors and reputation as a small-time private investigator, but when a young woman hires him to solve the potential murder of the singer of one of his favorite local bands, everything in his life amps up. As he digs deeper into what really happened, Alex must both seek out and dodge an endless array of dangerously powerful drug dealers, aging porn stars, crooked cops, neo-Nazi skinheads, and shadowy, corrupt politicians. The deeper he gets--and the more punishment his body takes and the more he begins to fall for the woman who hired him--the more determined he becomes to follow the trail to its conclusion. In the end, the truth is far more complicated than Alex had thought: not only about the murder and the victim's unsavory private life but also about Alex's own past behaviors and attitudes.

Meticulously researched and drawing from memoirs, zines, and documentaries, Alex Damage's story comes to life with real hangouts and real shows from LA in 1981, which makes the book immersive for the people who were there as well as those who wish they could have been.

Reviews:
"Hilarious, hardboiled, and full of heart. Decker's a genius." -- Cara Hoffman, author of RUIN
"Philip Marlowe meets his match in Kyle Decker's punk noir detective Alex Damage. Set in the LA punk scene of the 80s, this dark mystery crackles with gritty scenes and wry dialogue. Damage drinks his booze neat and takes a few for the girl, just like any hard-boiled detective. Chandler would have approved." -- Catherine O'Connell, author of The Last Night Out
"Alex Damage is, in his own words, 'a private investigator, of sorts...' Which is like saying Gnossos Pappadopoulis, the protagonist of Farina's 1960s classic Been Down So Long It Looks Like Up to Me is a college student. Gnossos unforgettably wended his picaresque way through a crazed 1960s psychedelic landscape. Alex Damage lives in--and wryly observes and obsessively comments on--our own not psychedelic but no less crazy times. What Been Down So Long was to my generation, Kyle Decker's This Rancid Mill will become to contemporary readers. It's smart, it's funny, it's memorable. It's not wrong to call this a brilliant novel." -- Mort Castle, three time Bram Stoker Award winner, and author of Knowing When to Die: Collected Stories
About the Author:
Kyle Decker graduated from Drake University in 2007 with a bachelor's degree in creative writing. From 2013 to 2018 he lived in South Korea where he worked as an English teacher and freelance writer, fronted the multinational punk band Food for Worms, and promoted DIY shows for fun and charity. Kyle holds a masters of education from the University of Illinois at Chicago. He currently lives with his wife in Chicago, where he teaches high school special education and English as a second language.