---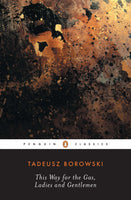 by Tadeusz Borowski
Penguin Group
8/1/1992, paperback
SKU: 9780140186246
Tadeusz Borowski's concentration camp stories were based on his own experiences surviving Auschwitz and Dachau. In spare, brutal prose he describes a world where the will to survive overrides compassion and prisoners eat, work and sleep a few yards from where others are murdered; where the difference between human beings is reduced to a second bowl of soup, an extra blanket or the luxury of a pair of shoes with thick soles; and where the line between normality and abnormality vanishes. Published in Poland after the Second World War, these stories constitute a masterwork of world literature.
For more than seventy years, Penguin has been the leading publisher of classic literature in the English-speaking world. With more than 1,700 titles, Penguin Classics represents a global bookshelf of the best works throughout history and across genres and disciplines. Readers trust the series to provide authoritative texts enhanced by introductions and notes by distinguished scholars and contemporary authors, as well as up-to-date translations by award-winning translators.
About the Author:
Tadeusz Borowski was born in the Ukraine to Polish parents and was imprisoned in Auschwitz and Dachau from 1943 to 1945. Considered a great of postwar Polish literature, he attended a boarding schoool run by Franciscan monks and then studied literature in the underground Warsaw University--during the German occupation secondary school and college were forbidden to Poles. He was arrested in April 1943 and was held in the Pawiak prison, Auschwitz, Dautmergen-Natzweiler, and finally the Dachau-Allach camp, which was liberated by the US Army in May 1945. While much of his prewar work was comprised of poetry, his subsequent works detailing life in concentration camps were written in prose. His most famous work, a series of short stories called Farewell to Maria, was given the English title This Way for the Gas, Ladies and Gentleman. Borowski committed suicide in 1951, at the age of 28.