---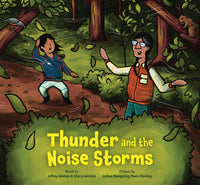 by Jeffrey and Shezza Ansloos, Illustrated by Joshua Mangeshig Pawis-Steckley
Annick Press
11/30/2021, hardcover
SKU: 9781773215587
When the world gets too loud and chaotic, a young boy's grandfather helps him listen with wonder instead.
Kids laughing, sneakers squeaking, balls bouncing--for Thunder, the sounds of the school day often brew into overwhelming noise storms. But when Thunder's mosom asks him what he hears on an urban nature walk, Thunder starts to understand how sounds like bird wings flapping and rushing water can help him feel calm and connected. Gentle, inviting illustrations by Joshua Mangeshig Pawis-Steckley emphasize Mosom's lessons about the healing power of the world around us.
Target age: 8 to 12
About the Contributors:
Jeffrey Ansloos is a Cree educator and psychologist, and the Canada Research Chair in Critical Studies in Indigenous Health and Social Action on Suicide. He is the author of The Medicine of Peace: Indigenous Youth Decolonizing Healing and Resisting Violence. This is his first children's book.
Shezza Ansloos is a Cree writer, educator, artist, and speaker. She is the author of two children's books, I Loved Her and The Fire Walker. Ansloos is also an award-winning singer-songwriter and visual artist.
Joshua Mangeshig Pawis-Steckley is an Anishinaabe artist/illustrator from Wasauksing First Nation. He is a self-taught artist who works in the Woodland art style of the Anishinaabe people.