---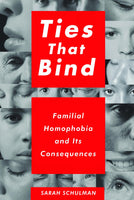 by Sarah Schulman
New Press
4/1/2012, paperback
SKU: 9781595588166
Hailed as "a cri de coeur woven into a utopian vision" by Susan Brownmiller, Ties That Bind is the highly praised work of prizewinning writer and professor Sarah Schulman on "familial homophobia," a phenomenon that, until now, has not had a name but is nevertheless an integral part of most people's experience. Ties That Bind invites us to understand familial homophobia as a cultural crisis, rather than a personal or an individual problem.
Ambitious, original, and deeply important, Schulman's book draws on her own lived experience, her research, and her engagement with active social change to articulate a practical, attainable vision of transformation that can begin today. This highly acclaimed and groundbreaking exploration is now available in paperback for countless more to experience a fundamental text that alters our understanding of homophobia and adds a critical dimension to the political landscape of all Americans.
Reviews:
"Visionary, deeply humane." -- Alison Bechdel, author of Fun Home
"[Schulman] starkly lays out the fundamental immorality of such shunning behavior and its destructive consequences for everyone involved. This is an important and original book." -- Martin Duberman, award-winning historian and gay rights activist, author of Has the Gay Movement Failed?

About the Author:
Sarah Schulman is the author of more than twenty works of fiction (including The Cosmopolitans, Rat Bohemia, and Maggie Terry), nonfiction (including Stagestruck, Conflict is Not Abuse, and The Gentrification of the Mind), and theater (Carson McCullers, Manic Flight Reaction, and more), and the producer and screenwriter of several feature films (The Owls, Mommy Is Coming, and United in Anger, among others). Her writing has appeared in The New Yorker, The New York Times, Slate, and many other outlets. She is a Distinguished Professor of Humanities at College of Staten Island, a Fellow at the New York Institute of Humanities, the recipient of multiple fellowships from the MacDowell Colony, Yaddo, and the New York Foundation for the Arts, and was presented in 2018 with Publishing Triangle's Bill Whitehead Award. She is also the cofounder of the MIX New York LGBT Experimental Film and Video Festival, and the co-director of the groundbreaking ACT UP Oral History Project. A lifelong New Yorker, she is a longtime activist for queer rights and female empowerment, and serves on the advisory board of Jewish Voice for Peace.